Scrambling instruction days for all levels of experience
Not sure what scrambling is all about? Been on some easy scrambles and want to tackle something harder? Getting ready for an assessment and need to brush up on short-roping? Choose your level and book your personalised training.
What do you want to achieve on your scrambling journey?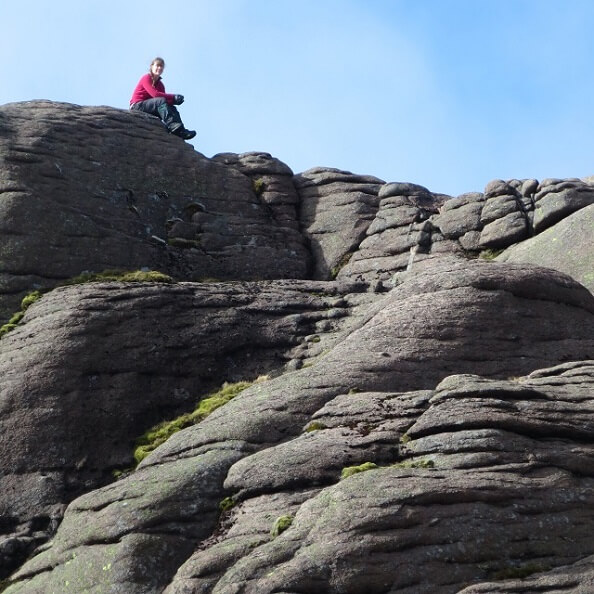 Adding a scramble to your day out in the hills is a great way to explore lesser-travelled mountain routes. It's about extending journeys and discovering more about the mountains you love.
A scramble can be as simple as a short section of steep ground where you use your hands for extra balance or as exciting as an airy ridge-route with stunning views. Never scrambled before? Book an easy scrambling experience, pitched exactly at your level, and find out what you've been missing! Sounds like what you want?
Got this already?
Get the basics sorted so you can add simple scrambles to your days out in the mountains.
Learn to move efficiently and safely on easy scrambling routes, using your hands for balance. Discover how to pick the best lines up a scramble and how to stay on-route. Get your head round the guidebooks and learn how to choose the right routes for your level.
Sounds like what you want?
Got this already?
Been on some easy scrambles and want to tackle something more technical? Not sure what extra equipment or skills you'll need? Or are you an indoor or sports climber looking to explore scrambling routes for the first time?
Learn the rope techniques and associated skills specific to scrambling—and find out when to use them. Practice pitching short sections and taking coils. Find out how to retreat safely if you need to. Learn as a team of two and get tailored training to suit you both.
Sounds like what you want?
Got this already?
Preparing for your Mountaineering Instructor Award? Be ready for your assessment.
Demystify short roping and develop your judgement about which systems—from strong-arming to fully-pitched—to use in different situations. Gain essential insights into maintaining fluidity while keeping your clients safe. Discover ways to be aware of and deal with skill imbalances between your clients—and between you and them. Be ready to impress your assessor!
Personalised training adapted to your needs
Develop the specific skills you need to achieve your aims.
Together, we'll work out exactly what you need to learn, based on what you've already done, your existing set of skills and where you want to go next. Once you've learned the skills you need, add an optional extra day to practice bringing it all together on a big mountain journey.
"I successfully climbed Tower Ridge and descended via Ledge Route on Ben Nevis under the excellent guidance of Mehmet Karatay. The rain was unending, but I felt safe the entire trip and improved my skills hugely. Mehmet is a very engaging guy and is incredibly knowledgeable about the plant life, erosion, environmental concerns and training tips and techniques for your improvement. This was the most advanced standard I had climbed at and it was a very positive and enabling experience!" Chris C
Individual coaching at a pace to suit you.
You'll learn in small groups (typically two, sometimes up to four people), so individual coaching at your pace is assured. Learning in pairs as a team is super-effective. You don't need to be at the same level of experience—you'll get tailored training to suit you both.
"...a very enjoyable day up Curved Ridge on the iconic Buachaille Etive Mòr. Mehmet's confident rope work ensured we were safe at all times and allowed us to fully appreciate the magnificent views up Glen Coe and across Rannoch Moor without any drama." Karl Erik, Get Started Scrambling course participant
Coaching from a qualified expert.
I'm a qualified Mountaineering Instructor (MIA) and a full member of the Association of Mountaineering Instructors and the Mountain Training Association. I've a lively enthusiasm for coaching and have been scrambling since 2002. As well as running my own coaching business, I'm a freelance instructor at Glenmore Lodge, Scotland's National Outdoor Training Centre.
Where can you learn?
From the Cairngorms, Ben Nevis and Glen Coe, to the Cuillin on the Isle of Skye, Torridon and the North-West Highlands—get in touch and we'll find the right venue for what you want to learn.
Costs
£260 per day (discounts available for some multi-day courses)
Rates are per group (the maximum number of people per group depends on your coaching requirements). Student/club discounts available on request. Get in touch using the button below!
Questions? Ready to book your training?